Family Create Disney Park at Home After Vacation Is Canceled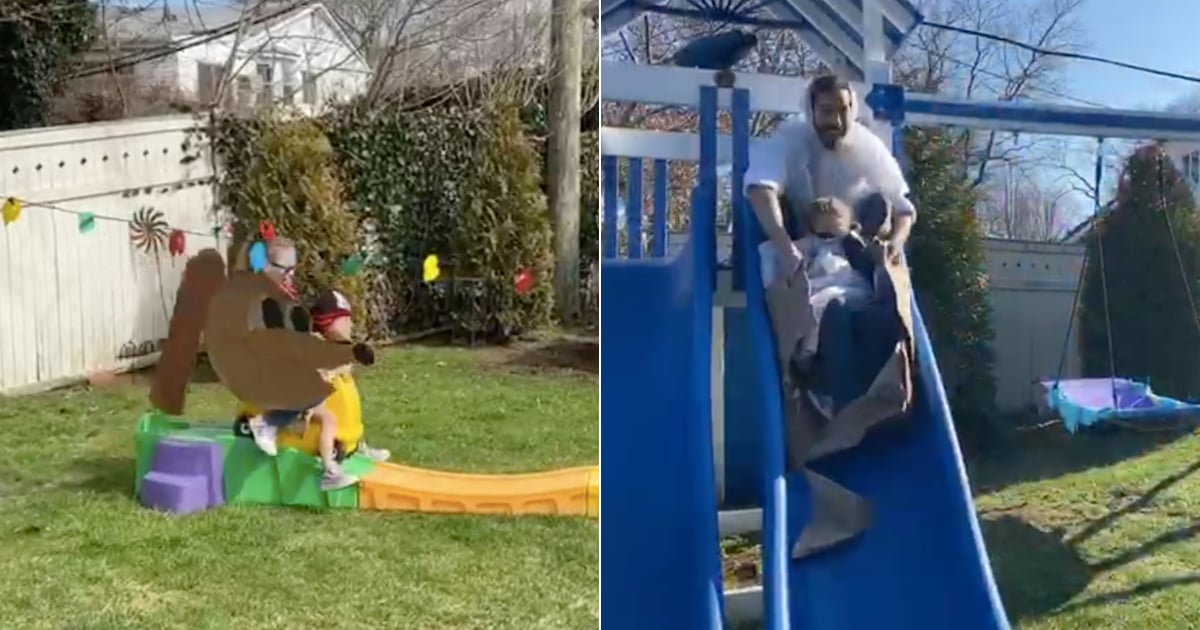 Today was supposed to be our first day in the parks with our entire family so we surprised our girls with a Disney vacation at home! We were most bummed about not being able to meet our family down there so my niece joined us for our princess parade via FaceTime! ❤️ #disney #waltdisneyworld #staycation

Posted by Jessica Harwood Gubenko on Monday, March 23, 2020
When Jessica and Brett Gubenko realized they were going to have to cancel their Disney family vacation, they knew their daughters, 8-year-old Sadie and 4-year-old Summer, were going to be heartbroken. But rather than simply sulking about the bad news, Jessica and Brett put their heads together to make an incredible at-home Disney park experience.
"We knew the girls were going to be hysterical when they heard the parks were closing and our trip would be canceled," Jessica told POPSUGAR. "Someone in a Disney Facebook group recommended making Dole whip to cheer them up and I thought, 'Why don't I just turn our house into Disney World?' Of course, when we told them the parks closed they cried, but once my husband and I explained that we were going to Disney at home, they were so excited."
Although Jessica admits it was a lot of work to make her concept of an at-home Disney park a reality, she and Brett truly enjoyed creating the magical aspects for their kids. And let me tell you, they truly went above and beyond! From the Mickey-themed breakfast to a ride on handmade Slinky Dog Dash and Splash Mountain rides to having the girls watch "fireworks" from a stroller, the pair truly left no stone unturned. Heck, Jessica even dressed up as a princess!
"Brett and I LOVED making Buzz Lightyear and once it was set up with the lights out it was so cool!" she shared. "We also had so much fun making It's a Small World. I wanted the dolls to move but it was so hard to keep my head down from behind the couch. We laughed the whole time!"
Watch until the end to be truly amazed by Jessica and Brett's efforts. We're hoping that they'll start taking reservations once the self-isolation period is over.