Easy Soft Chicken Tacos Recipe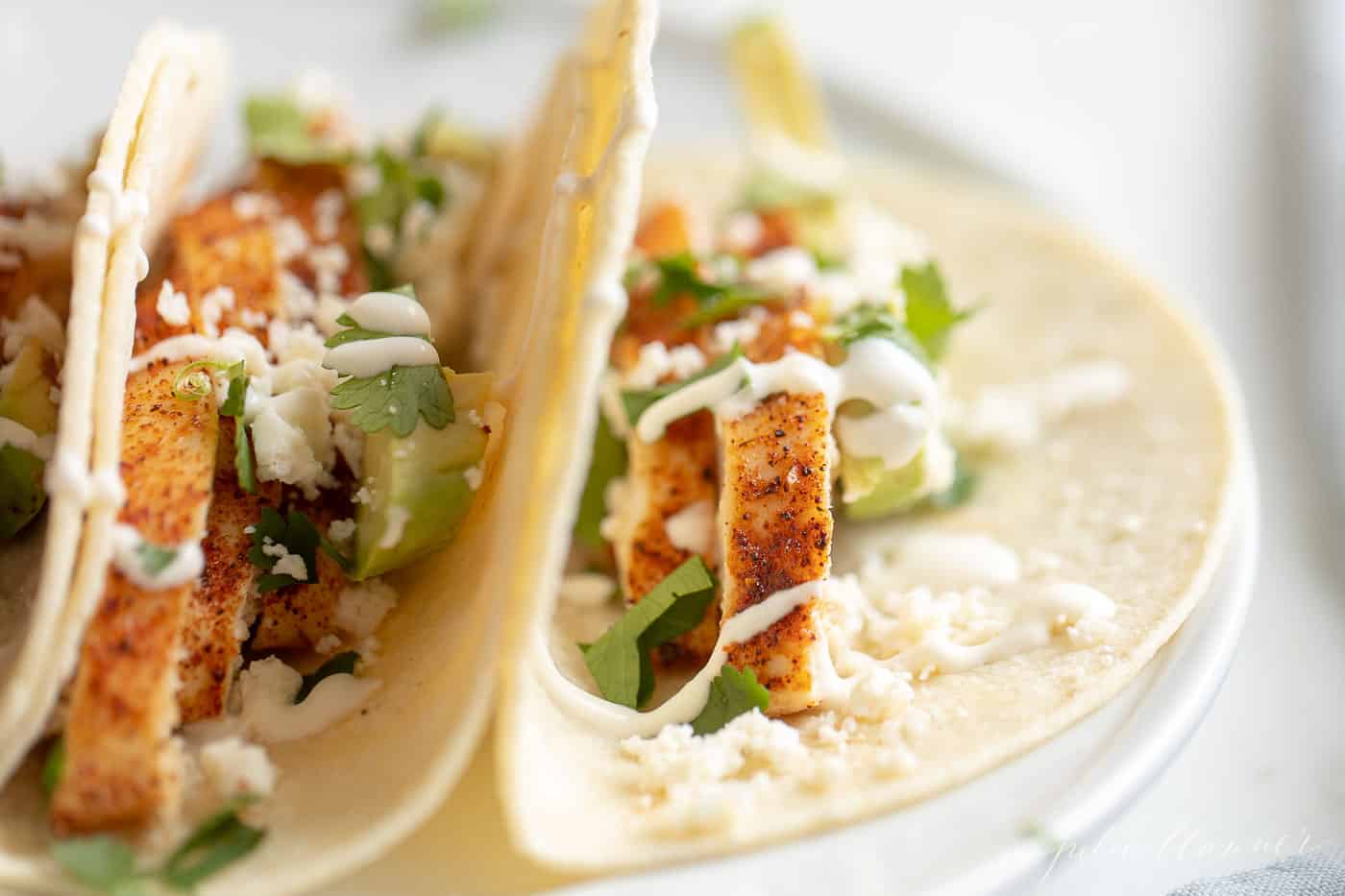 These easy soft Chicken Tacos are perfect for an easy weeknight meal and they are packed full of flavor. The chicken is perfectly juicy and it hardly takes any time to prep! Top the tacos with all of your favorite toppings for a meal that the whole family will love! These tacos are made with a handful of ingredients and come together so easily!
One of my go-to dinners for entertaining is tacos. They're universally liked & unbelievably easy. Everything but the meat can be prepped in advance (nap time!).
I almost always serve them in a taco bar style which saves time and allows guests to customize, which for this picky eater, is key! If I'm serving a crowd, I like to serve them alongside my Ground Beef Tacos so everyone can pick their favorite.
For this recipe, my reader-favorite Baked Chicken Breast is wonderfully seasoned with my favorite Homemade Taco Seasoning and finished with all of my favorite toppings!
I like to give a lot of detail in my recipe posts to guide readers through any questions. If you're just here for the printable recipe, feel free to click "jump to recipe" right under the title of this post and you'll head straight there!
Chicken Taco Ingredients
There are just a few requirements for these delicious oven baked tacos, the rest are completely flexible.
Taco Seasoning – I love to use my homemade taco seasoning for this recipe, it only takes a couple of minutes to make a batch. Alternatively you can use your favorite store bought brand.
Chicken Breasts – These chicken breasts are baked to perfection, and you can cube or shred them according to your preference. Buy the best quality chicken you can that hasn't been raised on antibiotics.
Corn Tortillas – When it comes to tacos, corn tortillas are always my first choice, but you can use flour tortillas if you prefer those.
Toppings:
Avocado – Freshly sliced avocado adds a freshness and creaminess that I just adore. Use ripe avocados, but not so soft that they become mushy when you cut them.
Chihuahua Cheese – A soft white Mexican cheese that is similar in flavor to a mild cheddar.
Crema – A Mexican thickened cream with a touch of sourness. You can use sour cream if you don't have crema.
Salsa Verde – A deliciously fresh salsa that really brings these tacos alive! If you prefer, any other kind of salsa or pico de gallo will work, too.
How To Make Soft Tacos
It's so quick and easy to make a big batch of these tacos!
Prep – Preheat the oven to 400 degrees.

Coat – Lightly coat chicken in olive oil and sprinkle with taco seasoning.

Bake 20 minutes, remove from oven & allow to rest 5-10 minutes (it will continue cooking) before slicing, cubing or shredding.

Fill corn tortillas with shredded or cubed baked chicken breast, avocado, chihuahua cheese, crema and salsa verde and enjoy!
What Toppings Can You Use On Chicken Tacos?
The best thing about tacos is that they are so easily customizable to your tastes. You can set up a serve yourself bar when entertaining to accommodate even the pickiest eaters.
I love avocado, my homemade cilantro crema, chihuaha cheese and salsa verde – the flavors really compliment each other. But let's be honest, tacos filled with any of these goodies will be delicious!
If you prefer things spicy, add some sliced jalapenos or try them with my Zesty Guacamole or Chipotle Corn Salsa.
Hard or Soft Tacos?
I'm a big advocate of soft tacos rather than the hard shells, I find them so much easier to eat and they contain the toppings much more effectively! These chicken tacos will still taste amazing in hard shells, so if they are your thing, feel free to swap them!
I also prefer to use white corn tortillas, they really help to highlight all of the flavors, but you can use flour tortillas as well.
Soft Tacos Are Perfect If You Are Feeding A Crowd
This recipe is so easy to double if you are planning on serving tacos to guests. They are perfect to serve up on game day but also simple enough to serve as an easy weeknight dinner.
These chicken tacos are so packed full of flavor, no one has turned them down to date! These tacos have all the ingredients for a real feast!
Tips To Make Chicken Tacos
Do not to overcook the chicken breasts or they can become dry. Boneless skinless chicken breasts are lower in saturated fat than other meats, so watch your time so they don't dry out! The chicken is done when it reaches an internal temperature of 165ºf – this should never be over 30 minutes at this temperature.
Substitutions – I like to use chicken breasts in this recipe, but if you prefer to use chicken thighs you absolutely can! You can also use your favorite salsa and substitute sour cream for crema.
Warm your tortillas in the oven or microwave before filling them, this makes them more pliable and less likely to break.
Cocktails to Pair with Tacos
Vodka Mojito
Homemade Margarita
Skinny Margarita Recipe
Berry Lemonade Cocktail
Fruity Sangria Recipe
Skinny Mojito
Mango Margarita
Best Side Dishes to Serve With Soft Tacos
Cream Cheese Bean Dip (try it with black beans for a different texture/flavor)
Cilantro Lime Salad Dressing
Mexican Street Corn
Easy Avocado Salsa
Mexican Pasta Salad
Zesty Pineapple Salsa Recipe
And if you love these delicious soft tacos, be sure to check out this chicken fajita bowl, Spicy Chorizo Taco and Carne Asada Tacos! It's the perfect light and easy weeknight dinner.
Want more? Receive the best ideas directly to your inbox and connect on Youtube, Instagram, Facebook, and Pinterest!
If you try this recipe, please come back to share using my 5 star rating in the comments below! Not only do I appreciate it, but I know readers do, too!
4 tablespoons red pepper or taco seasoning
1 tablespoon olive oil
4 chicken breasts
8 corn tortillas
1 avocado sliced
1 cup chihuaha cheese
4 tablespoons crema
1/2 cup salsa verde
2 tablespoons cilantro (optional)
Preheat oven to 400 degrees.

Lightly coat chicken in olive oil and sprinkle with your seasoning of choice.

Bake 20 minutes, remove from oven and allow to rest 5-10 minutes (it will continue cooking) before slicing, cubing or shredding.

Fill the corn tortillas with shredded or cubed baked chicken breast, avocado, chihuaha cheese, crema and salsa verde and serve.
Serving: 4g | Calories: 641kcal | Carbohydrates: 32g | Protein: 59g | Fat: 30g | Saturated Fat: 9g | Cholesterol: 182mg | Sodium: 931mg | Potassium: 1262mg | Fiber: 7g | Sugar: 4g | Vitamin A: 916IU | Vitamin C: 10mg | Calcium: 287mg | Iron: 2mg
Disclosure
Many of the links on this blog are affiliate links. JulieBlanner.com receives a small commission when certain items are purchased, but the price is the same for you. JulieBlanner.com is a participant in the Amazon Services LLC Associates Program, an affiliate advertising program designed to provide a means for sites to earn advertising fees by advertising and linking to amazon.com.