Fun Things to Do at Home to Keep You Entertained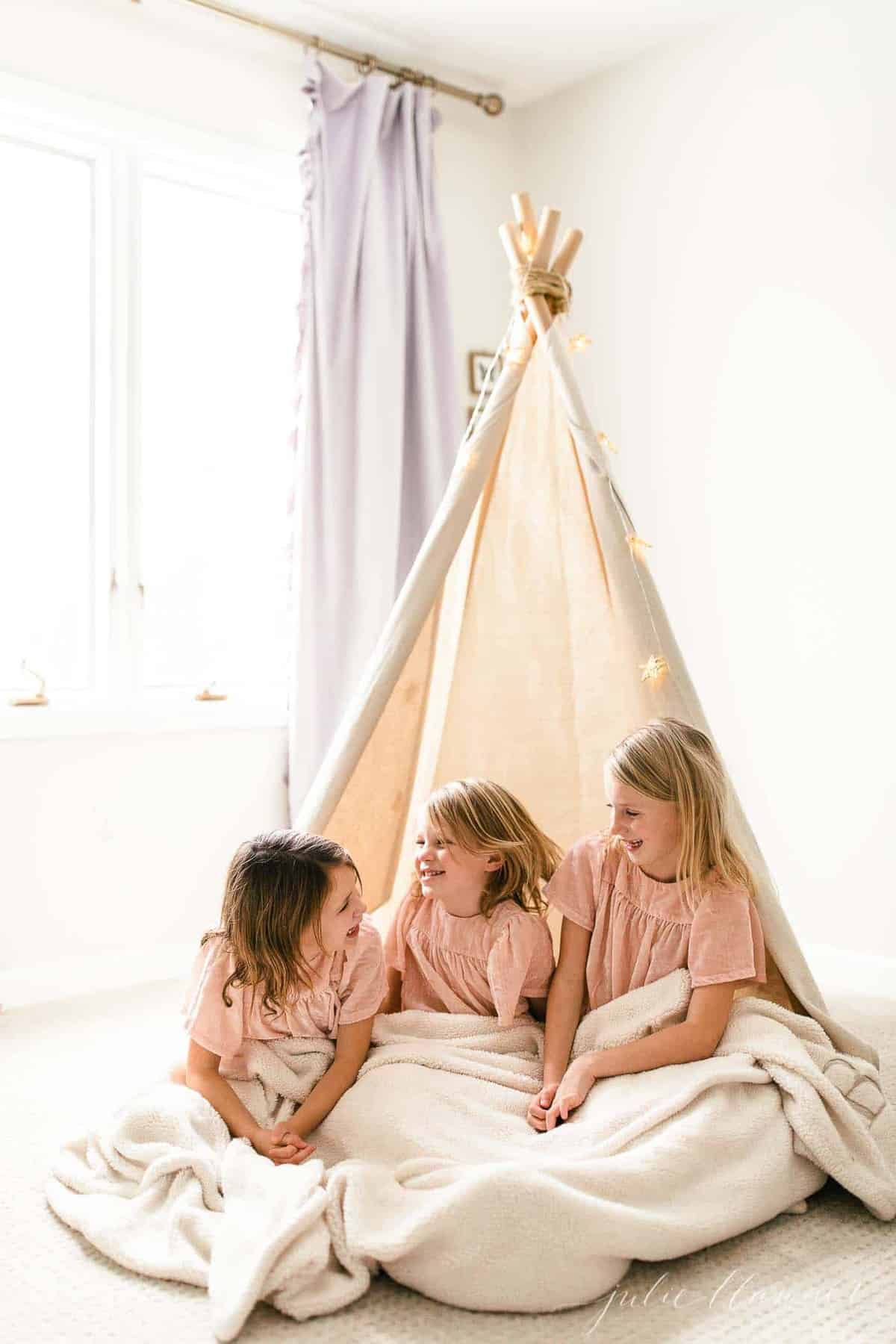 In the wake of recent events, we're getting more creative than ever to find fun things to do at home – for the whole family!
The last couple weeks have been wild, but, it's somewhat of a welcome change. Lack of schedule, an abundance of family time and the opportunity to slow down.
Of course I wish it was business as usual, but sometimes, we have to make lemonade. We've spent the last 8 days at home, without technology and I've yet to hear "I'm bored".
So, let's turn this into an adventure, for ourselves and our children! I have ideas for everyone…hint, you'll love them!
I have an array of easy cookie recipes from 2 ingredient meringues to eggless cookie dough. Whatever you have on hand, I have a recipe to cure that sweet tooth. Baking is not only a fun way to spend time together, but often therapeutic! You can find all my cookie recipes here.
Make Bracelets
It's amazing how many hours kids can spend enjoying string!
Have a Cupcake Decorating Contest
Hint: everyone will win! Get out all your sprinkles and let the baking and decorating begin! Everyone can share their inspiration behind the design.
Turn Your Bathroom into a Spa
Even the most basic of self care can be turned into a spa treatment. This is one of our favorite passtimes. Light a candle, dim the lights and turn your bathroom into a spa. Relax and enjoy a bath alone or turn it into family night.
Yoga
Feeling stir crazy? It's time for some exercise! The girls and I have really enjoyed doing yoga together. There are a lot of great videos on YouTube!
Did you know I have a calligraphy series? There's no better time to learn calligraphy at home, free! You can get started here.
Workout
You can find me on my elliptical catching up on my favorite tv shows. In fact, I only record them in the workout room for a little extra motivation! You can find an array of workout videos free on demand or check out my friend Maria's free Facebook live workouts!
Board Games
Fun for the whole family! Some of our favorite board games include Bananagram, Sorry, Doubles, The Game of Life, 5 Second Rule, Rumikub, Apples to Apples of course games like Twister are always fun, too!
What are your favorites?
Card Games
Uno, Dos, SkipBo, SlapJack, Old Maid, Crazy Eights are always a hit and provide endless hours of technology free entertainment.
Mad Libs
Create your own or buy online – MadLibs are always good for a laugh! MadLibs Junior are perfect for younger kids.
Learn to Draw
Search "how to draw a (insert critter)" to find easy, achievable printable worksheets.
This is the perfect opportunity to get organized! Start one closet at a time. You can get all of my closet organization tips here!
Write Pen Pals
Another favorite passtime and a great way to keep in touch with friends and family. Who doesn't love receiving mail?
Send Cards
Cards aren't just for Christmas! They're a great way to let friends and family know you care.
Have a Sleepover (with your family)
No friends required for a sleepover! Have a campout in your own backyard or all pile up in the same room for a night. On occasion we let the girls have a "sister sleepover". The giggles are priceless.
Take a Walk
Fortunately, we're entering spring. A walk is so good for the soul! Take in some fresh air and see what's blooming today.
Skip Rocks
If you're near a body of water, this activity offers endless fun.
Pick Up Trash
A little spring cleaning – outdoors! Make the world a better place. Take a bag on your walk and pickup trash along the way. We like to do this on our evening walks and when we walk the shoreline of the lake.
Organize Drawers
Take it one drawer at a time! Get all the tips and tricks in my YouTube video!
Hike
It's time to step outside and explore. Find a hike to enjoy the great outdoors.
Have a Dance Party
Quite possibly the most fun way to sneak in a little physical activity. Turn the music up and let the party begin.
Learn to Country Line Dance
Yes, you read that right! We're taking one of my favorite 90's activities and bringing it back. After visiting the Wildhorse Saloon in Nashville in January, all the girls want to learn to country line dance! We're kicking it off with the Chatahoochee.
Have a drive through park in your area? It's the perfect way to stay in and stay distanced. If you live in St. Louis, Lone Elk is a great drive through park to see buffalo, elk, deer and more.
Drive By Family Homes or Historic Sites
Another great way to get out, while safely distancing. Pass by the homes you grew up in or find historic homes and sites to visit.
Have an Art Show
It's time to get creative! Let your little artists create their hearts out and display in a room to put on their very own art show.
Clean the Basement
I'm secretly excited about this one. Again, another great opportunity to get something accomplished on my list.
Make Pet Rocks
Find rocks and paint or color them to create your favorite critters!
Set Up an At Home Movie
Pull out the popcorn and the blankets for a movie night at home. With so many new releases being streamed, there's a lot to look forward to!
It's not just for Christmas! Using just 2 staple ingredients you can create shapes, figurines and so much more!
Make a Scavenger Hunt
There's no need to wait for an Easter egg hunt. Make your own scavenger hunt or have the kids do it for one another!
Create an At Home Hair Salon
The girls spoil me on this one. Wash, rinse, style repeat. Fortunately I don't have to go out with my new do!
Check Out Local Real Estate
Take a drive around the city using the Realtor or Zillow app to pass by and see homes on the market.
Play Heads Up
Use paper and tape for a technology free version. It's always good for a laugh.
Read
The perfect way to (start) or end the day.
Do Research
The girls are each choosing something to research, write about and create an art project for that will be presented at the end of the week.
Get my printable checklist and make your home feel fresh for the year!
I hope you enjoyed this list of fun things to do at home. If you have any ideas to add, please share in the comments below!