Gourmet Grilled Cheese | The Ultimate Comforting Indulgence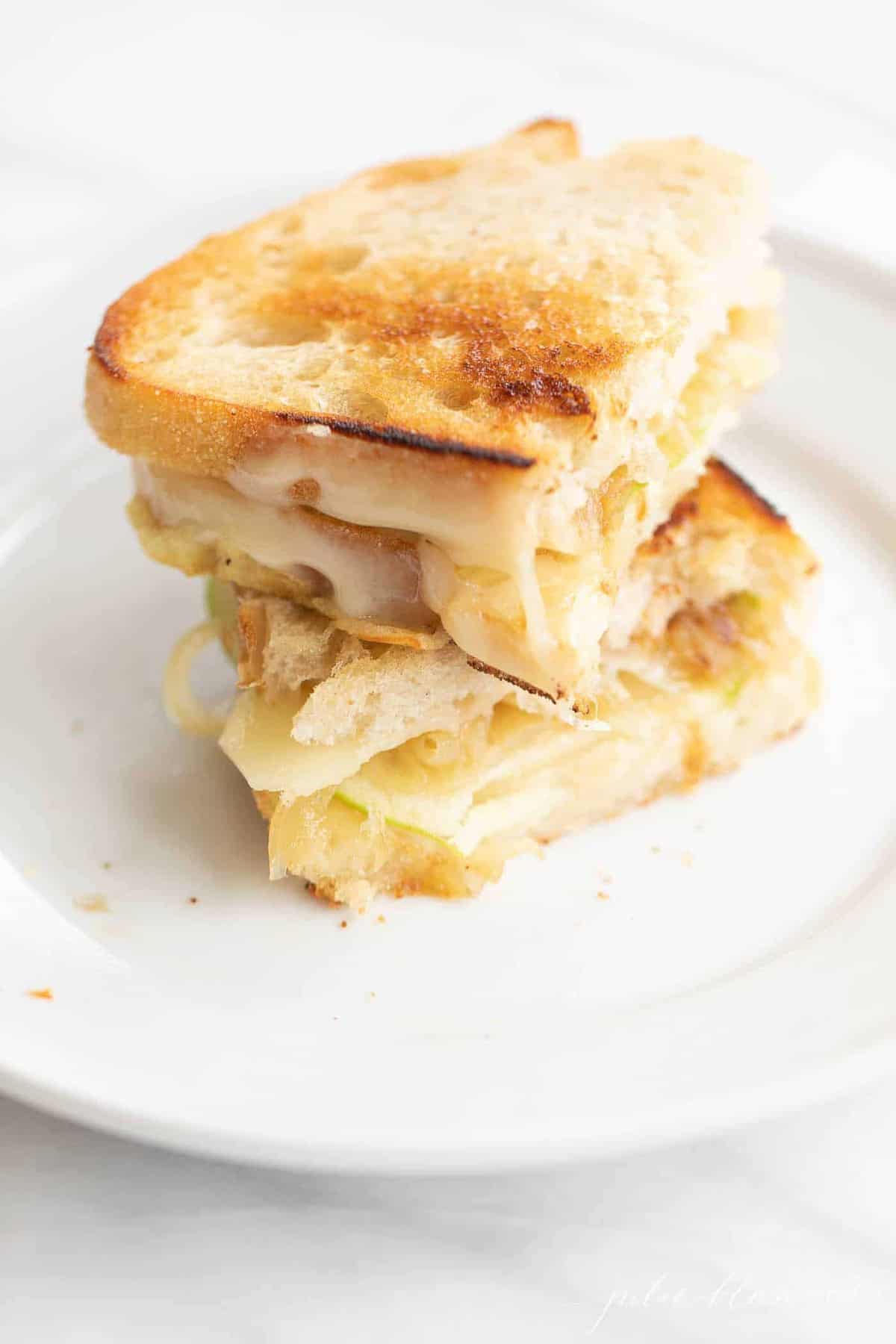 This gourmet grilled cheese recipe is an easy way to elevate your favorite sandwich! Easy and simple to make, these grilled cheeses are loaded with caramelized onions and green apple for a deliciously indulgent treat. Quick to make, a grilled sandwich never looked so good!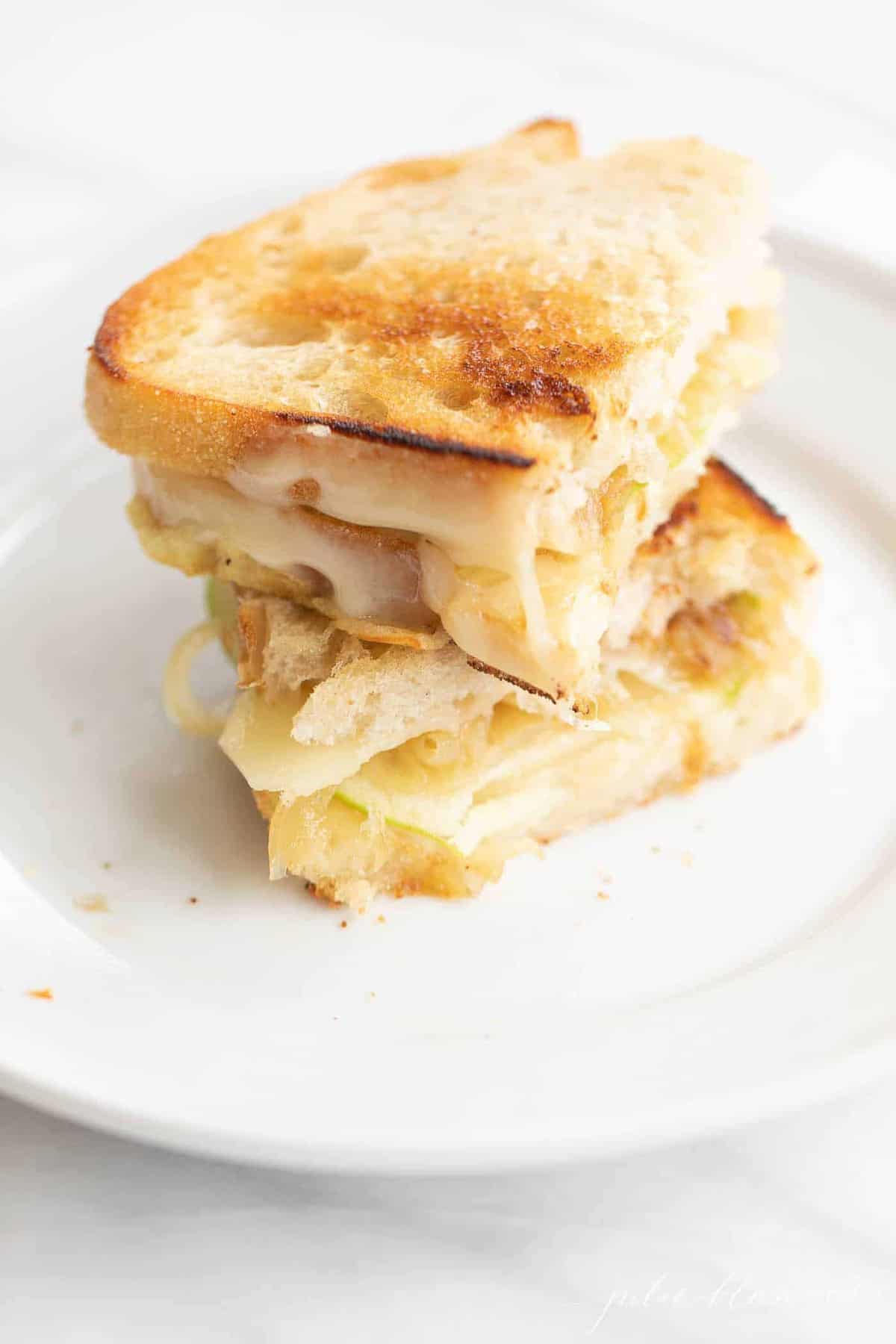 I'll admit, I love to eat like a kid! Often for lunch, I make a peanut butter and jelly on toast, a grilled cheese (with Gruyere) or grilled cheese with bacon jam because it's fast, easy and so delicious.
This grilled cheese is unashamedly grown up though, and packed full of flavor. It pairs beautifully with soups to warm you through and through – the ultimate comfort food!
If you're looking for something equally delicious to pair this with, try it with my Tomato Soup Recipe!
Gourmet Grilled Cheese Ingredients
Artisan Bread – The right kind of bread is key to the best grilled cheese. My artisan bread is perfect for these sandwiches and sourdough bread also works well.
Butter – I prefer to use salted butter for this recipe, but you can use unsalted if you prefer.
Cheese – Gruyere is my favorite cheese to use for this gourmet recipe. It's a little sweet and salty and has a great nutty flavor to it. I use that in combination with white cheddar here.
Caramelized Onions – Always a great addition to burgers and sandwiches! They're so easy and you can make a large batch and enjoy them in an array of recipes throughout the week.
Granny Smith Apple – These crisp apples cut through the creamy cheese and rich onions and really amp up the flavor of this sandwich, as well as adding a crunch. The added apple slices in this grilled cheese really take the sandwich to another level! I recommend you use a Granny Smith apple, which is wonderfully tart and cuts through the creaminess of the melted cheese. It's also a firm apple so it holds up well to the heat.
One of my favorite things about making these incredible sandwiches is that they are so easy to customize! Feeding a crowd? Everybody can choose their favorite cheeses and additions!
How To Make A Gourmet Grilled Cheese
Spread butter on bread or add to a warm skillet and add bread slices.

Add cheese and allow to melt. You can cover to encourage melting.

Just before removing, add caramelized onions and apple slices and sandwich.

Slice and enjoy!
What's The Best Cheese To Use?
The only thing that's a little out of the ordinary for my grilled cheese is the type of cheese I use. I prefer to use Gruyere as it melts really well and it has a wonderfully nutty flavor.
Gouda or all kinds of cheddar also work well and give the grilled cheese a good flavor, but I implore you to try Gruyere if you haven't had it before! For this particular version of gourmet grilled cheese, I used a combo of Gruyere and white cheddar for an extra dash of sharpness.
The most important factor in choosing your cheese is that it is fresh sliced from your local deli – or buy a fresh block and grate it yourself! It gives the grilled cheese that gooey melting factor we all crave!
For example, the shot above includes Gruyere and herbed goat cheese. More great cheese options to consider:
Herbed Feta
Muenster
Gouda
White Cheddar
Swiss
Blue Cheese
Provolone
Monterey Jack
Spinach Dip with Cream Cheese – yes, you read that right! A spinach dip grilled cheese is good!
More Grilled Cheese Toppings
Bacon Jam
Tomato Jam
Arugula
Pesto Aioli
Truffle Aioli
Chipotle Aioli
Tips To Make A Gourmet Grilled Cheese
Use quality bread – an artisan loaf, sourdough or olive oil loaf are all delicious choices.
Use a good melting cheese. See above for options.
Grill low and slow on medium. This will prevent the bread from burning while allowing the cheese to melt to a nice gooey consistency.
More Delicious Sandwich Recipes
Gerber Sandwich
Italian Focaccia Sandwich
Party and Picnic Sandwiches
Easy French Dip with Au Jus
Want more? Receive the best ideas directly to your inbox and connect on Youtube, Instagram, Facebook, and Pinterest!
If you try this recipe, please come back to share using my 5 star rating in the comments below! Not only do I appreciate it, but I know readers do, too!
2 slices artisan bread
1 tablespoon butter
1 slice gruyere
1 slice white cheddar
1 tablespoon caramelized onions
2 slices granny smith apple sliced
Add butter to warm skillet over medium heat. Add bread.

Add your cheese to the top of each piece of bread. Grill until melted. Add caramelized onion and apple just before removing from heat.

Add caramelized onion and apple just before removing from heat.

Sandwich together. Slice and enjoy!
Use quality bread like an artisan loaf
Optional Additions:
aioli – add just before sandwiching
arugula
bacon jam
herbs
Variations:
Muenster cheese
herbed feta
pimento cheese
Disclosure
Many of the links on this blog are affiliate links. JulieBlanner.com receives a small commission when certain items are purchased, but the price is the same for you. JulieBlanner.com is a participant in the Amazon Services LLC Associates Program, an affiliate advertising program designed to provide a means for sites to earn advertising fees by advertising and linking to amazon.com.