Mudroom Storage and Organization | Julie Blanner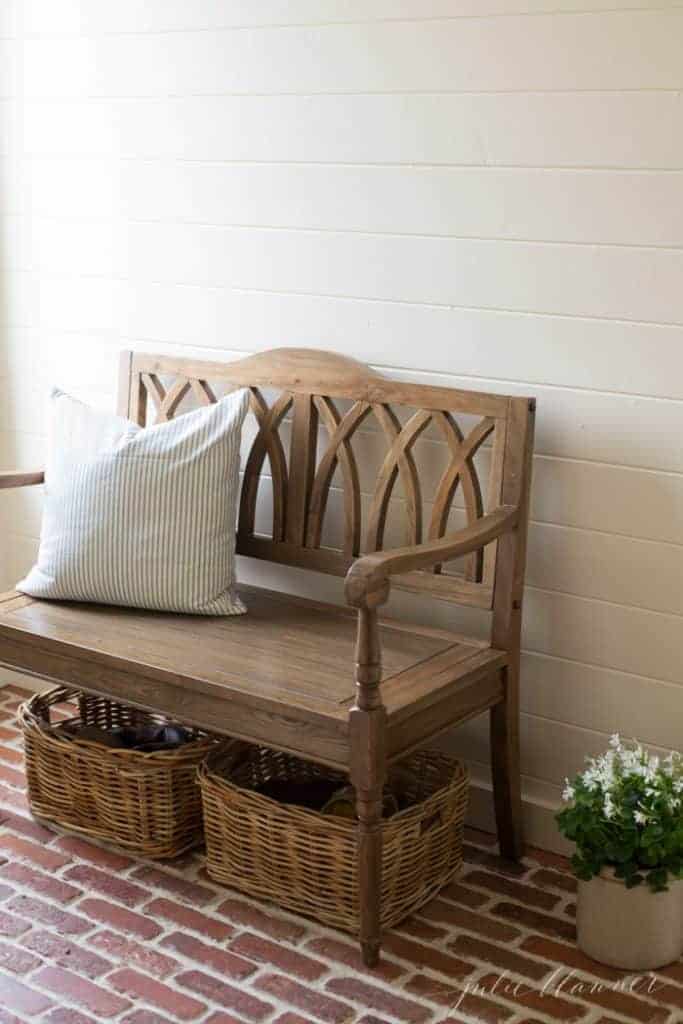 Get easy ideas for mudroom storage and learn more about the most flexible entryway organizers! I've got ideas including a pretty entrance bench, endless entryway storage and so much more.
I hope you're feeling just as motivated to get organized as I am because I'm not as much a content planner, but more of a doer and sharer. I've been working on little organization projects throughout our home to create more function and less clutter and chaos.
I believe that great organization starts in the entry of your home, so I have started by creating flexible mudroom storage.
I love organizing. I know, I know… it's not for everybody. But I promise, giving everything a place feels SO GOOD. You'll never regret it! Check out my pantry organization, refrigerator organization, and linen closet for some of my most popular organizing tips.
I'll be sharing quick and easy organization tips throughout the month, but if you're ready to get started now, you can find an array of past projects here.
Tip #1: I often like to use pieces of furniture (such as an entrance bench or a pretty chest like this one) that fit our needs rather than built in storage so that we can easily adapt as our needs change.
I found this small antique chest at an estate sale in our neighborhood last year – it fit everything we needed for our small mudroom.
This little antique chest functions as the ultimate entryway organizer! It's somewhat narrow, allowing for easy pass-through, has a great solid marble top to catch miscellaneous items, and a few drawers to stow away seasonal essentials.
I added a small tray for keys, cell phones, Chris' wallet and spare change. It's great to have a go-to spot for those items that always seem to get misplaced.
Tip #2: Leave a basket or drawer empty at all times!
I added a bowl in the top drawer for Chris' running gear, but you'll notice the drawer is otherwise empty. It's my dirty little secret.
Actually, my clean secret! I like to keep the drawer free of clutter so I can hide away miscellaneous papers , mail, etc when we're expecting guests.
We use the second drawer to store hats and gloves – they're easily accessible when you're running out the door, but hidden from sight.
Finally, the lower drawer stores Chris' hat, bug spray and sunscreen. Again, an easy location to grab them on the go and to put them away when you return home.
Determining how you use a space and what you need to store before you get started will go a long way. It keeps the bulk of clutter from the rest of your home. As you can see, this little chest is the ultimate entryway organizer because it provides ample mudroom storage without a lot of effort.
Tip #3: Add an entrance bench so there's a place to sit and remove shoes. If you have room, adding one is the best way to add a little extra flexible storage to your entryway.
Ours is actually meant for outdoors, but I love the way the soft wood looks against our cream walls!
Tip #4: Add baskets! Here, weve added a row of pretty baskets underneath the entrance bench for storage that we rotate throughout the year.
Those baskets aren't just for shoes!
In the summer, they hold flip flops, goggles, pool supplies. In the winter, they hold winter boots and so much more. Teaching the kids that all their items have a place is a huge part of staying organized throughout the year.
Tip #5: Hooks! You can honestly never have too many hooks. Ours are located opposite of our entrance bench and they are large and hold so much! Again, this rotates throughout the year between coats, jackets, backpacks, and more.
More details on our mudroom coming soon, I'm off to work on my next project. Did I mention Chris loves surprises?
I'd love to hear from you! What's your best tip for mudroom or entryway storage?
LET'S CONNECT!
instagram | newsletter | facebook | pinterest
Disclosure
Many of the links on this blog are affiliate links. JulieBlanner.com receives a small commission when certain items are purchased, but the price is the same for you. JulieBlanner.com is a participant in the Amazon Services LLC Associates Program, an affiliate advertising program designed to provide a means for sites to earn advertising fees by advertising and linking to amazon.com.